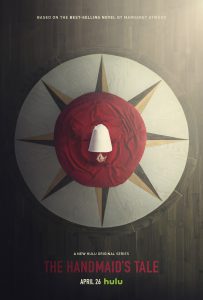 The Handmaid's Tale, now streaming on HBO, is very political. Even more so today considering the state of the world.
The story is set in America about a hundred years into the future and begins with a staged attack that kills the President and most of Congress. A Christian fundamentalist movement calling itself the Sons of Jacob launches a revolution and suspends the Constitution under the pretext of restoring law and order. A disease has made most women sterile, unable to procreate.
Things happen fast. The new, self-elected government take away women's rights and freethinkers disappear without a trace. The new regime, the Republic of Gilead, moves quickly to consolidate its power and reorganize society into a militarized, hierarchical government of Old Testament-inspired social and religious fanaticism, turning the country into a theocratic dictatorship. Human rights are severely limited, and women's rights are even more curtailed. Women are forbidden to walk alone, forbidden to read, and the few fertile women that are not married live their lives being breeders.
The show speaks to us on many levels. Extremists are on the verge of gaining power in several countries, not mentioning the ones already in power. We see radical Islam being dealt with by more radicalism; Buddhism and Hinduism with questionable motives, often supported by nationalistic leaders; militant atheists speaking with voices filled with even more ignorance than the ones they're trying to oppose.
This show is a frightening look at a future we have to prevent from becoming a reality.